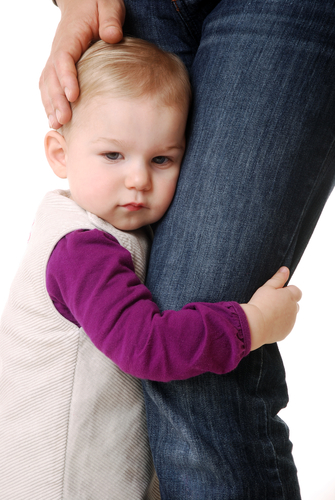 Not all toddlers are outspoken, daring and adventurous, some are shy, quiet and reserved.
If your little one gets nervous when meeting new people or struggles to come out from hiding behind your leg whenever a guest calls to the door, there are some things you can do to make them feel more comfortable and confident.
Don't push them
Don't force them to interact with people. Telling your toddler to say hi to someone when they don't want to, isn't fair on them or even the guest. If you push too much, your efforts will become counterproductive and you will just make your child feel uncomfortable. If you tell them to say hi and they don't – leave it there. Over time they will pick up the courage to take it a little further.
Don't label them shy
Avoid putting labels on your child. If they struggle to talk to someone, or hide behind your leg when asked a question, don't try to diffuse the situation by saying 'oh, they're just being shy'. Once you label it, your youngster will become it. Instead say something like 'oh, she doesn't want to talk today, maybe next time'.
Don't request them to perform
If you are aware that your little one feels uncomfortable in front of lots of people, don't expect them to feel ok when you ask them to show off something they learnt in preschool. If you really want to them to do a dance they learnt or to display how well they are at writing, don't order them to do it, ask politely and see how they respond. If they say no, don't force it. They will feel just worse, embarrassed and maybe even develop a complex about the fact that they are shy.
Don't interrupt them
If they are asked a question by someone, don't answer for them. Give them a chance to gather their thoughts. If you are constantly answering for them, you will override their ability to be able to speak up. Some children are simply quiet and need a chance to voice their opinion. But if they know you are simply going to answer for them, they won't bother trying.
There is nothing wrong with being shy, it is just who your little one is. Remember, you aren't trying to change your little one, you are simply helping them to feel more confident and comfortable in social situations.