Kids will be kids, and they certainly know how to make it look like a tornado just whipped through your spotless kitchen in just seconds.
But did you know it's all part of growing up, and that they are learning while having this messy fun?
These are the reasons why you should try to let it happen. (It's not always easy, but every once in a while should be manageable even for a neat and tidy mummy).
1. It helps them become independent
Every time your child makes a mess, whether it's eating their dinner, laying the table or playing with their toys, they are learning. Learning to make decisions, learning about new textures, learning about actions and consequences, learning how far they can push themselves - and every time they learn they are enabling themselves to become that little bit more independent.
2. Because they need to learn to clean up after themselves
How can your child ever learn to clean up after themselves if they're not allowed make a mess in the first place? Or if you're constantly tidying up around them as they try to get stuck into the wonderful world of play! Kids need to learn that actions have consequences, and while that may come across as a little dramatic, it's something that speaks the truth. The consequences of making a mess is cleaning up - something that every child should learn to do.
And your washing load can be lightened, with the help of Fairy Non Bio new Platinum PODs® with Extra Stain Removal. The new Platinum PODs® offer the same gentle care for sensitive children's skin, now with boosted cleaning power. It's a win win.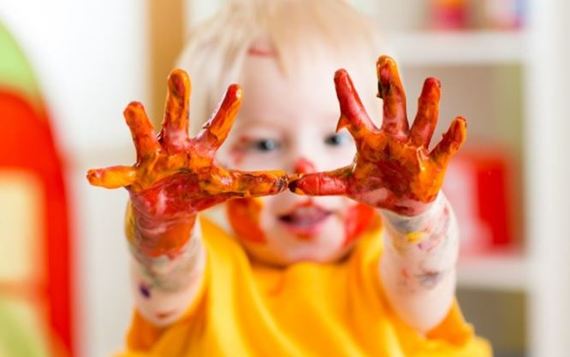 3. Because it's fun
What child has ever said that cleaning up is the best part of playing? Not one that I know anyway. Making messes is fun. It allows you to explore, and to really lose yourself in the world of imagination. Kids are only kids for a short period of time - let them enjoy it.
4. It lets them be creative
How creative can you be if your mum is constantly putting the Lego that you have thrown on the floor in a bid to find something back into the box? Or if they're only allowed have a certain number of markers out of the box at a time? Not very. It is important you let them try new things, discover how things work and to really just let them unleash their creative side.
5. To help them question the world around them
They can't really let their juices flow if you're constantly tidying up after them or trying to steer them in the less-mess direction. Kids love to test the boundaries - it's what they do to really explore the world around them and to discover new things. They'll ask themselves questions: 'what will happen if I smash up all the chalk into a cup and add water?' And while all you may see is a big aul mess, your little one is learning to ask themselves questions, and to make observations.
And so, you're not going to be able to tell yourself this very often – but let the mess go, it's good for them. The house doesn't have to be perfect, to make them perfectly happy.