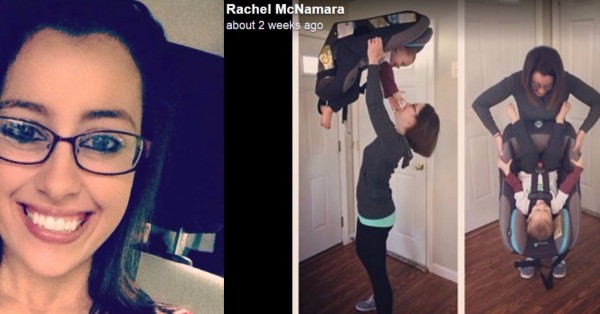 We all know how important a car seat is for protecting for your child while you're on the road.
But we still hear horrendous stories about children being hurt or killed in car accidents even when a car seat has been used.
One mum wanted to know how her car seat would protect her child and decided to test out the efficacy of her car seat at different angles.
Rachel MacNamara wanted to ensure the car seat would protect her son if her car was flipped upside down.
So she did the next best thing by strapping her tot into his seat and turning him upside down.
She shared photos of this to Facebook and the post has since gone viral, with 49K shares.
"After strapping your child into their car seat, ask yourself if you'd be comfortable flipping it upside down. Remember that the chest clip should be at armpit level and the straps should be tight enough to pass the pinch test." Rachel wrote underneath.
Rachel said that she wasn't telling other parents to "flip their kids upside down before every car ride."
"Just that they should feel confident that their child would be safe IF the car seat was flipped over in an accident. I think this is a great visual and shows just how important proper car seat use is."
She said the amount of children being hurt and killed in car accidents really concerned her.
"Car accidents are the leading cause of injury and death in children. People might also say '20 years ago I didn't even wear a seatbelt and I'm perfectly fine!' Well, that person got lucky."
"There are many children who are not alive today to tell their story. Times have changed. There are more drivers on the road today. We have more distracted drivers due to cell phones."
"We also know a lot more than we knew back then about children's bones and development. Car seats are constantly evolving to become safer."
"There was once a time when cars didn't even have seat belts or airbags. Do you know why cars have seat belts and air bags now? Because it's SAFER."
While Rachel's post certainly proves a point, you don't need to tip your child upside to ensure their safety.
Always read your car seat manual instructions carefully before fitting it.
RSA guidelines advise always using a car seat no matter how short the journey is, taking time to get your child comfortably strapped in and make sure the seat's harness or seatbelt is correctly adjusted.
The harness or seatbelt should be quite tight.
If a harness is being used in rearward-facing seats, it should be tight enough so that only two fingers can fit between the top of the child's shoulders and the harness but your fingers should be unable to turn in that position.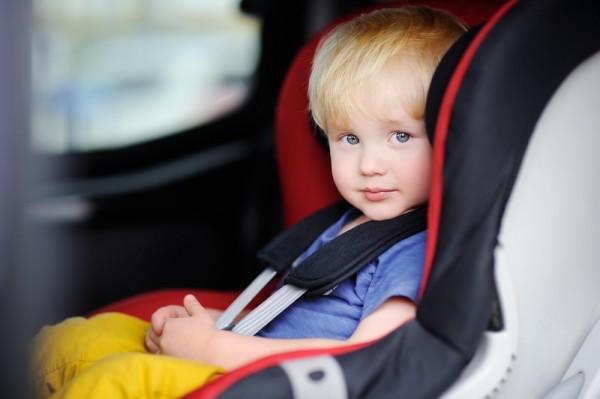 If a harness is being used in forward-facing seats, it should be tight enough so that only two fingers can fit between your child's breastbone and the harness, but your fingers should be unable to rotate in that position.
The child car seat should sit firmly on the back seat with no forward or sideways movement when tested.
You can simply push the seat to test this, or you can fasten the harness straps and pull it from the centre as if to exert a similar force a child would in the event of heavy braking.
If you are unsure whether the car seat is fitted properly, ask a car seat expert to check it or fit it themselves.