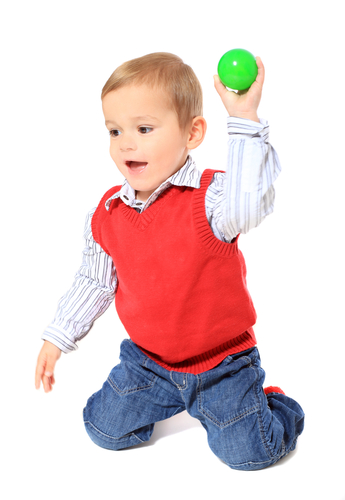 A common phase that many tots develop from their baby years, and slowly grows into their toddler years. While some throwing is unavoidable, it's important to try and curb this bad habit as much as possible. Here are some great tips on how to deal with your toddler when it comes to throwing things.
Why do they throw?
Most toddlers between the ages of 18 months and three years, develop the habit of throwing objects. This is down to their developing motoring and hand eye coordination skills. Your tot will also start to learn that some of the objects will react differently when they start to throw things. Despite all of this, it's important your toddler learns that they can't throw everything.
Show what they can throw
For safety reasons make sure your toddler is aware of what objects are ok to throw, and what objects are not. Foam balls and bean bags are safe and fun to throw, while rocks and solid objects are not. It's important that your little one is aware that it's ok to throw some things as long as they throw the right things, at the right time. When they do throw something inappropriate, calmly take away the object, and explain that they can't throw the certain object and give them something else to throw instead.
Avoid forceful throwing
Make sure your toddler doesn't throw objects aggressively, especially if they are angry at you or at their peers. If your child has hurt or come close to hurting someone with their forceful throwing, you need to deal with this straightaway. Explain to your tot that they shouldn't throw objects like that, and encourage them to express their emotions with words instead.
Tidy up together
Your little one is too young to understand the consequences of throwing things just yet, so they wouldn't be able to pick up the objects they've thrown by themselves. Instead of lecturing your tot, use it as way of bonding with your little one. Enlist their help and turn cleaning up into a fun game.
Mealtimes
Toddler throwing is usually occurs at mealtimes. You can still avoid food flying everywhere by sitting down with your toddler while they eat. That way your there to discipline appropriately when the incident those occur. It can be a good idea to use toddler proof plates to avoid messes as well any accidents.