A new study by innovative children's range Vivio® Junior (formerly Vivioptal Junior) has revealed concerns that parents have around children's health and immunity this Autumn Winter. The research*, undertaken just as children are heading back into the classroom shows that primary concerns are around the immune system (67%), common coughs and colds (51%), getting adequate vitamins and minerals to grow (48%), strong bones (44%), vitamin deficiencies (37%), gut health (39%), brain health (37%) and cognitive development (36%).
In the last twelve months, lower immunity leading to illness was prevalent with 12% of children missing over 21 days of school due to illness. 13% had missed between 11 and 20 days while 19% had missed between 6 and 10 days. 27% had missed between 2 and 4 days while 17% managed attendance in full with no illness recorded. Overall, the average number of school days missed in the last year was nine.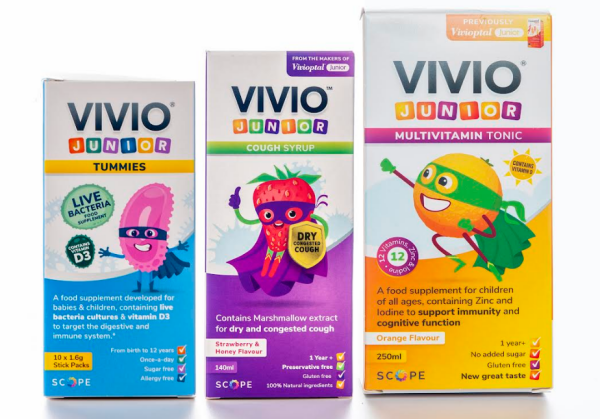 In the survey, 27% of adults admitted not knowing how to strengthen their child's gut health. With 70% of a child's immune system located in the gut, a balanced gut flora is vital for good digestion and immunity. Alongside this, 44% felt that their child's immunity may not be as strong as it was prior to COVID-19. With children back to school, this concern has become more pressing as they mingle and study in close quarters.
48% of parents worry that their children do not get all the vitamins they need from food alone. Children need to absorb vital nutrients from their food but to do so they need to be eating enough and the right foods to see the benefits from it. Vivio® Junior is working with two experts to assist parents in providing a holistic approach to ensure that their children are well set up for the season ahead.
Louise Lennox, Chef and children's fussy eating expert says, "As a mother and a chef, my children's nutritional health is of the utmost importance to me. My own son became a fussy eater almost over-night, so I wholly understand the importance of getting the right nutrients into growing children.
In my role as a certified children's fussy eating therapist, I continuously see the struggle parents have in getting their children to have a healthy relationship with food. With that in mind, my top tips for parents in encouraging a well-rounded diet for children are as follows:
Set a clear routine with a regular eating schedule. This should help behavior, reduce anxiety and improve appetite.
Add a multivitamin to your child's routine. Incorporate them with breakfast as children usually have a much better appetite when they wake after a good night's sleep making them more motivated to eat.
Get children involved. Let them choose their own lunchbox and help to pack it for the day ahead. Use colourful silicone cupcake cases as fun dividers for food.
Most children love to snack on bread and crackers. Offer them different types of these including wholemeal varieties to avoid food burn out.
Éva Hill Hamilton, Clinical Nutritionist comments, "A healthy gut is so important when it comes to your children's overall health and well-being. With 70% of your immune system located in your gut, it is our first line of defence against harmful bacteria, as well as being the place where we absorb the nutrients we need to keep us alive and functioning. An unhealthy, unhappy gut can lead to your children not being fighting fit against any nasty winter bugs. When going about protecting your children for the back-to-school season, try and include a rainbow of fruit and vegetables in their daily diet for those immune supporting nutrients.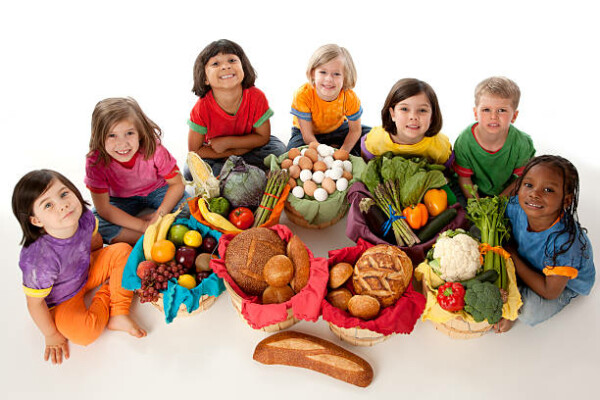 For any fussy eaters, I would recommend a well-rounded approach by trying to include not only a multivitamin tonic to bridge any nutrient deficiency gaps, but also a live bacteria supplement that will support their gut health, help them to absorb these nutrients and start protecting them from the inside out. If your little ones are struck down with a winter cough, look out for natural remedies that soothe the symptoms without suppressing it as coughs are a natural defence mechanism to clear and protect the body."
Whether your little ones need nutritional support going back to school, natural protection for any niggling coughs during winter or digestive and immune support throughout the year, Vivio® Junior has you covered with a range encompassing Vivio® Junior Multivitamin Tonic, Vivio® Junior Tummies Live Bacteria and Vivio® Junior Natural Cough Syrup. To purchase, visit your local pharmacy or viviojunior.com
For more information about the VIVIO® Junior product range visit viviojunior.com.