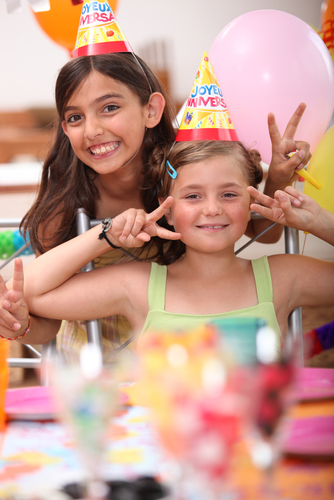 Are you dreading your child's birthday party? Not only for the mess that it will probably create but mostly thinking about how you are going to keep your little one and all of their friends entertained for all of those hours? Not to worry, here are seven fun party games that will keep your little one busy but happy too.
Pass the Parcel
Sometimes, nothing beats the classic party games and pass the parcel is no exception. It can be a cheap and easy game to organise. By simply popping into your local bargain store, grabbing some cheap toys and wrapping them in newspaper, not only can you keep your tot entertained for hours but also ensures their friends go home with something too.
Spin the Nail Polish Bottle
Mostly popular with girls but is definitely one of the most modern day party games. Place five different nail polish colours in a circle and use a clear coat for the spinner. Whatever colour it lands on the child must paint one of their fingers that colour. Your child will definitely come up with some unusual creations but they will have fun too.
Musical chairs
The old party games are the best party games and you can vamp up musical chairs, with some modern tunes too. Just be careful it doesn't get too aggressive as tots are known to get a little too competitive sometimes.
Piñata
A tradition popular in Mexico but has slowly become a hit at most kiddies parties all across the globe. Children love the opportunity to have a good old bash at the paper mache creation and of course the oodles of candy that lands on the floor afterwards.
Scavenger hunt
If you're fortunate enough to have a big garden and a sunny day, then most definitely take advantage of it by organising a scavenger hunt. Not only can you create the opportunity for your tots to get some much needed fresh air but they can learn how to work together too.
Balloon Games
There will be plenty of balloons at your child's party, so why not let your little one take advantage of their surroundings with some balloon games. Various games such as hot potato or a new game, balloon ping pong can not only create hours of fun for your child but can keep your child active too.