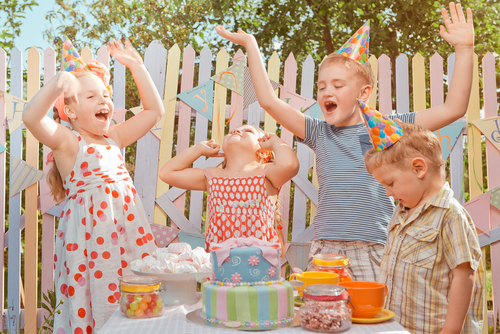 Birthday parties can be a lot of work, especially if you have decided to host it at home without any paid for entertainment. However, having it in the summer can be a whole lot easier than in the winter.
Here are eight games to play outside – if the weather is nice that is.
Pass the parcel
Pass the parcel is a great traditional game that doesn't really involve much effort. All you need to do is buy a couple of small gifts, wrap them in newspaper and control the music. Easy peasy and kids really love this game.
Musical chairs
This is a great game that will keep everyone amused for at least 20 minutes. Instead of chairs which may wobble on the grass use cushions. Simply play some music, remove a cushion after each song and keep moving until only one person is left standing/sitting.
Egg race
You definitely only want to play this outside – cleaning up egg is messy, messy work. Get each guest their own egg and spoon. Put everyone into teams and do a relay race. The first team back wins.
Water fight
What child doesn't like messing around with water? You should probably ask the parents of each child to dress them in old clothes so that they don't mind getting wet. All you need to do is buy a few water guns and let the kids go wild. You should probably have a few towels handy as well.
Naughts and crosses
Super size this fun game by drawing nine squares on an old bed sheet and using frisbies as the noughts and crosses. Either draw an X or an O on each frisbie and let the kids throw them onto the mat and see who gets a completed line first.
Scavenger hunt
This one works great if you have a particularly big garden, or a park nearby. Put the kids into teams and give each team a list of things they need to find. The first one back with all their items wins.
Twister
Make an extra large game of Twister by using spray paint to make the coloured circles on the grass. You should probably do this the night before to ensure the paint is dry before the kids arrive. Then just play the game with a normal Twister counter.
Ring toss
All you need for this is about ten milk bottles or fizzy drink bottles filled with water. Get the kids to throw frisbies onto them and the first one to get all their rings on wins.