The online boutique Lou & Belle has recently celebrated their first birthday - this year has flown so it's hard to believe it's just over a year since we discovered this wonderful site with gifts for babies, toddlers and young children. This Christmas, Lou & Belle are proud to be stocking the beautiful award-winning wooden toy brand Tenderleaf Toys as part of their extended gift offering. Tenderleaf create exciting worlds of imaginative wooden toys, that are made to last with a lifetime of love. The range is charming and quirky, engaging and perfect for little hands.
Tenderleaf toys are deeply committed to protecting natural resources and only work with reclaimed rubberwood, a by-product of the latex industry. For every reclaimed rubberwood tree used, a new one is planted, driving the cycle of regeneration. Tenderleaf have been awarded the ICTI Ethical Toy Program seal of approval for their ethical and sustainable supply chain. Every toy is hand painted and hand checked before being packaged in recycled cardboard in a effort to minimise the use of plastic.
This Christmas Lou and Belle are excited to have some lovely items from the Tenderleaf range including:
Ice Cream Cart – RRP €55.50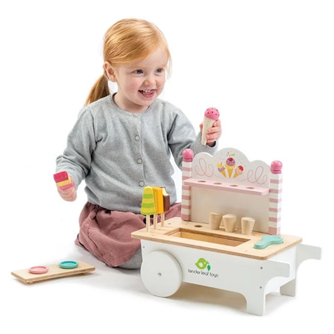 Everyone loves ice cream! Come to the Ice Cream Cart where the popsicles, lollies and ice cream cones are ready to be served! There is a clever ice cream scoop that magically picks up the scoop and tops the cone ready for some yummy treats. Encourage creative role play and help develop social skills.
The Tabletop Tool Bench €98.50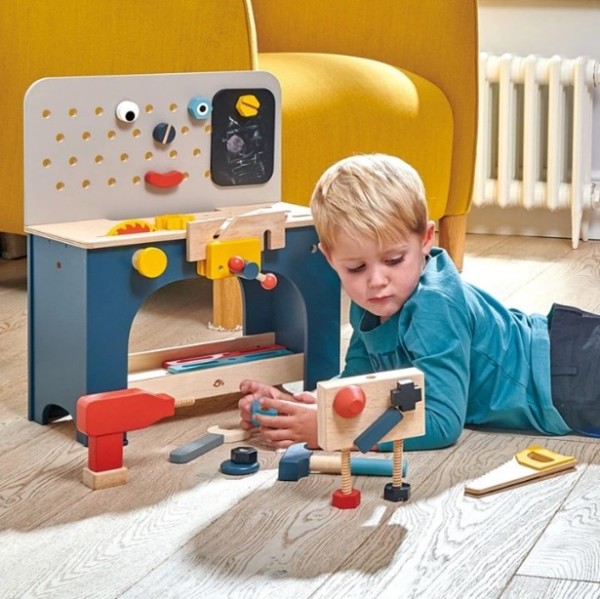 A contemporary take on a traditional toy tool bench, this will look gorgeous in any toddlers bedroom as the colours are so aesthetically pleasing. Lots of creative play and storytelling opportunities when building and making robots!
The bench has a really sturdy construction and a tray at the bottom to keep all the projects in one place. There is a separate small toolbox that can removed so that your little one can get on with projects in other parts of the house!
The Kitchenette RRP €55.50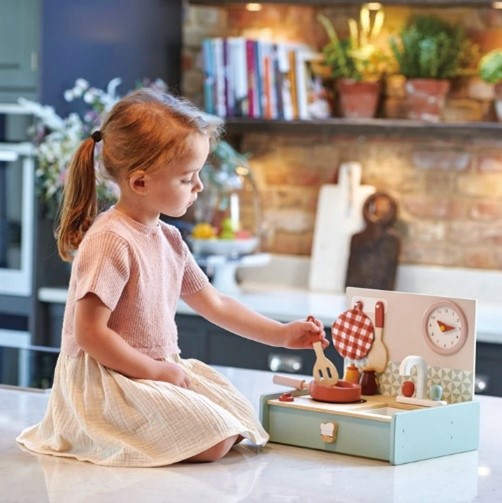 Perfect for those short on space. A portable fold away kitchenette with hob and clacking dial. and a pretty clock with moving hands helps teach how to tell the time. Wash it all up in the waterproof sink, with wooden tap and pack it all away. Cooking on the go!
Children will love pretend cooking on this lovely set, so developing fine motor skills and improving their language skills.
Wooden Flower Bed RRP €25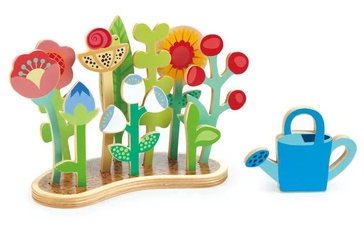 Every child enjoys garden play and this wooden toy flower bed is the perfect gift for a budding gardener especially when the weather is bad. This set is made up of 10 plywood plants showing various stages of growth, from a seedling to a seed head, can be planted in any one of the 10 holes in the wooden base. Water them with the watering can to see them grow. It's a wonderful toy to encourage imaginative play.
Play Pay Pack RRP €21.95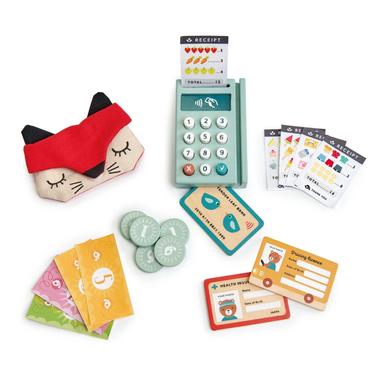 Playing shop is something that never grows old and this Play Pay Pack will bring hours of playing joy. It includes a card reader with squishy number buttons, a slot in which to use the Tender Leaf credit card and a top slot to place one of 5 differently illustrated receipts. A canvas purse holds a health card and ID card illustrated both sides with space to write a name or stick a photo. 6 sheets of pretend play paper money and 5 coins. This is a wonderful gift for developing manual dexterity.
Counting Carrots RRP €27.99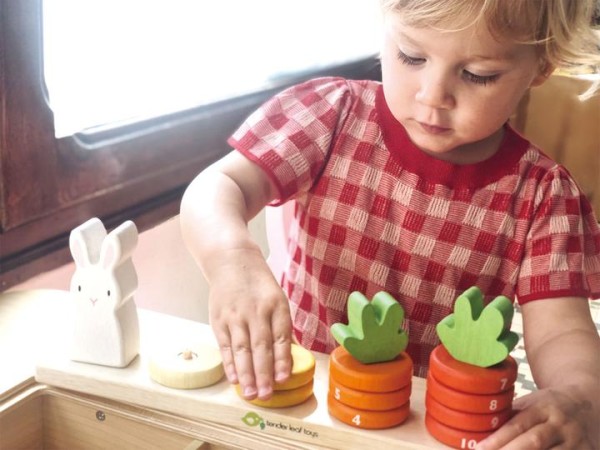 A modern take on stacking rings. This counting game is a base with a rabbit and 10 numbered rings to stack in order. Top them all off with a green leaf. It's such a great gift encouraging first counting skills as well as manual dexterity.
Afternoon Tea Stand RRP €30.00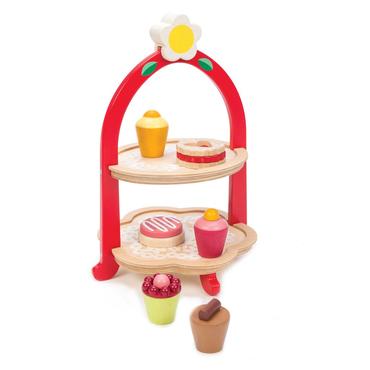 If only we could turn back time, we'd definitely add this to our Santa list. There are endless hours of pretend play fun in this gift inviting your friends around for afternoon tea. This cake stand, with delicious looking petit fours in gorgeous mouth-watering colours, is a pretty centre piece for a dolly's picnic. Consisting of 2 tiers, each one printed with a doily print. The set includes a pretty red tea cake stand with flower motif, 4 cupcakes and 2 biscuits.
Rocking Baby Birds RRP €19.99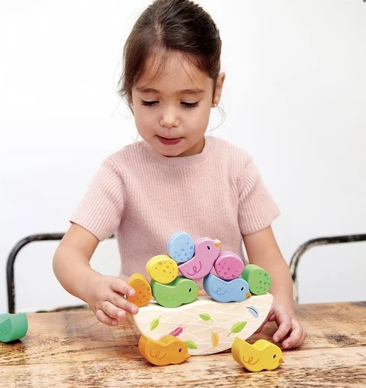 Hang out with all the garden friends and try to stack them all up on the tree without falling down. The Stacking Garden Friends is made from solid wood and painted with cute garden motifs, it also comes with a printed drawstring bag for easy storage. Encourage logical thinking and inspire imaginative play and fine motor skills. This is a gender neutral classic wooden toy, made from high quality plywood and sustainable rubber wood, all the pieces and stacking parts have been coloured with a soft non-toxic water stain allowing the beauty of the natural wood to show through, whilst giving the pieces a soft tactile quality.
The Friend Ship RRP €39.95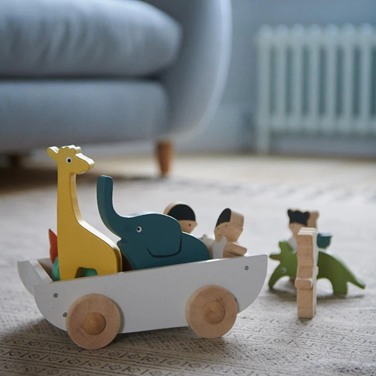 A perfect gift for any toddler, this set is made from sustainable rubber wood and is painted in soft contemporary colours. The set of animals feature, and elephant, giraffe, anteater, whale, fox, penguin, bear and a little boy and girl each carrying a small mouse and bird. Pull them along in their cute white boat with natural wood wheels.
For more wonderful gift ideas for babies, toddlers, young and bigger children visit Lou & Belle now.