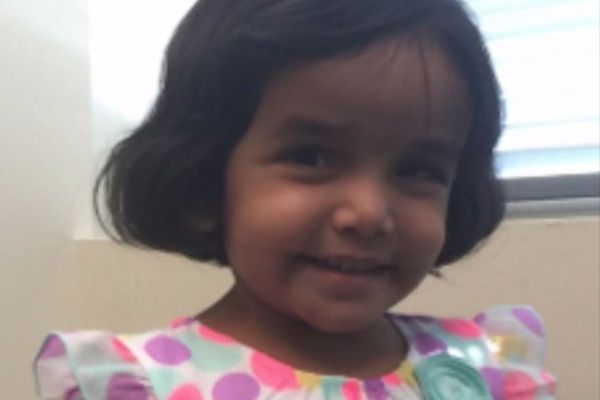 Police in the US have revealed that a body has been found in the search for missing toddler Sherin Mathews.
A statement was released by the local police force in Richardson, packaged as an 'update in the Sherin Mathews case'.
"Today…at approximately 11am, during one of the search operations, the body of a small child was discovered in the area of East Spring Valley Road and South Bowser Road," the statement read.
"The area has been blocked off as a crime scene. We are awaiting the FBI Evidence Recovery Team to respond. The adjacent neighbourhoods can expect to experience some disruptions during this time."
While attempts to formally identify the body are now underway, it has been claimed that the child is 'most likely' Sherin.
Apparently, the remains were discovered in a tunnel, around a half-mile from her home.
Sherin's story has saddened and infuriated people all over the world.
The three-year-old, from Dallas, was last seen alive on October 7. Her father claims that he sent her to stand outside of their house as punishment, after she refused to drink her milk.
He told police that Sherin was sent outside at around 3am. When he returned 15 minutes later, the toddler was nowhere to be seen.
Sherin was sent to stand by a tree which is said to be located opposite an alley where coyotes are often spotted.
Sherin's disappearance was only reported to the police five hours later, and a wide-scale search was launched in the area. An Amber Alert was also issued.
We will keep you updated on the story as more information emerges.