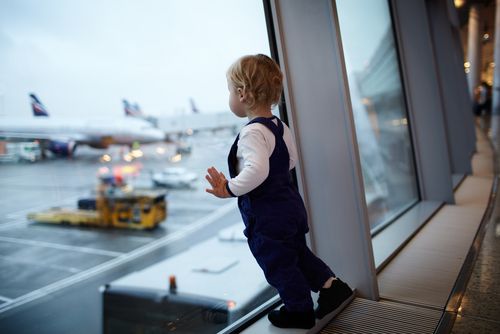 The idea of travelling with a toddler can invoke panic in parents. The longer the flight, the worse the panic. Will they scream the whole way? Will their little ears get sore?
If the thought of spending 6 hours on a plane with your two year-old is enough to make you cancel that trip you've been planning for so long then fear not.
Here are some tips that will make sure your toddler's first time on a plane will go smoothly.
Leave early
Always leave early to reach the airport well before time. It's important to schedule in allocated time for forgotten toys, toilet stops and anything else that could happen.
Nap time
It is of course not always feasible to plan a flight around your child's nap but instead you could ensure your child is tired enough for a nap by the time you reach your seats on the plane.
Aisle seat
Try to grab an aisle seat for yourself if possible. You will be glad of it when your toddler is exploring the plane, needing countless toilet trips and constantly requiring something from the overhead compartment.
Ask for help
Don't be afraid to ask for assistance from the flight attendants if you need it. They will generally be glad to help and friendly towards your little one.
Buggy
Try to bring a buggy that is easy to fold away at a moment's notice so that your toddler can still rest his legs during the long wait to board the plane. A buggy will also come in handy if your toddler has a habit of running off which can be dangerous in a space like an airport.
Snacks
Make sure you have enough water, juice and snack to keep your toddler happy and full for the duration of the flight. Snacks like mini rice cakes, fruit pieces or some crackers will keep your little one's hunger at bay.
Ears
Babies and toddlers can experience discomfort and pain in their ears during a flight. To ease this you can bring some juice that requires a straw as sucking can help with the discomfort. A lollipop can also help but be sure to supervise your toddler when they are eating it.
Supplies
This may be the most important aspect to your flight plan. Make sure to pack your toddler's favourite toy but also be sure to keep an eye on it at every pit stop. It may be a good idea to pack a new item, nothing too expensive but even simply a new colouring book will delight your child.