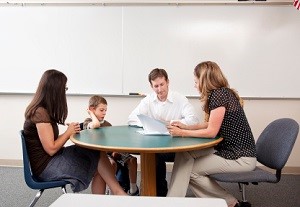 Individual Education Plans (IEP) are documents that identify children's special educational needs and set goals to meet those needs. For example, if social skills are a problem for a child, part of their IEP should include specific goals to improve those skills. If a child has difficulty with handwriting, their IEP should include steps to improve handwriting or to learn touch-typing.
If your child has special needs, an IEP is important for several reasons. An IEP shows you the specific steps a school is taking to help your child reach their potential. It identifies the school staff that are responsible for implementing those steps. Most importantly, it gives parents and students a say in how their educational needs are met.

At present, IEPs are not legally required in our school system. A provision requiring IEP is in the Education for Persons with Special Educational Needs Act of 2004, but is not implemented. However, using IEPs is good practice, and the National Council for Special Education (NCSE) recommends their use. Therefore, parents are entitled to ask their children's schools to prepare IEPs.
Putting together an IEP is a process. The NCSE recommends schools follow the process described in this article. To begin, schools gather information about children's strengths and needs. Schools get information from several sources including the children's parents, school records, medical reports and assessments. In addition, the school may consult the child, depending on the child's age and abilities.
Once this information is gathered, the school principal or her designee circulates the information to relevant parties. Then the school schedules a meeting to discuss the IEP. Parents, school staff and relevant professionals are involved in this meeting.
One of the goals of an IEP is to help children with special needs successfully progress through the education system. The IEP focus is on a child's priority learning needs, which are "prioritised areas for intervention", according to the NCSE. After identifying priority learning needs, goals or targets addressing those needs are formulated. Targets are things the student will learn or accomplish so that schools can assess student's progress, targets should be specific, measurable, agreed, realistic and time-bound (SMART). The IEP also includes the methods the school will use to help the student reach their targets.
IEPs are not static documents. They evolve as children's needs changes. Schools revise IEPs if children meet their goals, to modify existing targets, to change targets and when children's needs change. IEPs should be reviewed at least once every school year.
More information about IEPs is on the NCSE's website.