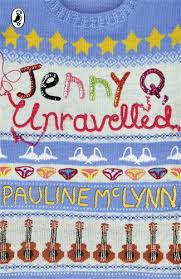 It can be notoriously difficult to encourage teenagers to read so it's always refreshing when a series comes along that gets even the most reluctant of readers excited about reading. Irish author and household name Pauline McLynn has written her first series for young adults, Jenny Q. We reviewed the first book in the series (Read it
here
) and couldn't wait to find out what Jenny Q gets up to in the sequel.
Jenny Q is now officially a middle child since the arrival of her baby brother but it's ok because he's the best little bundle ever. Even her big brother's group Ten Guitars are well into the lil dude. That includes the gorgeous Stevie Lee Bolton with his looks that just mesmerise her! And now she's been asked to handle their fan mail. So will Stevie Lee finally notice Jenny Q? But in between babies, boys and crazy band fans, will she have enough time to help Dad or look after her exhausted Mum before everything becomes unravelled!
This is a really fast-paced funny book that teens will just love. The characters are well written and it also tackles issues that teens will readily relate to. There are also some rather cute knitting patterns in the back of the book that readers can try their hands at. This is the perfect book for teens to enjoy this summer.
Jenny Q: Unravelled by Pauline McLynn is published by Puffin Books/ £6.99/ €9.99