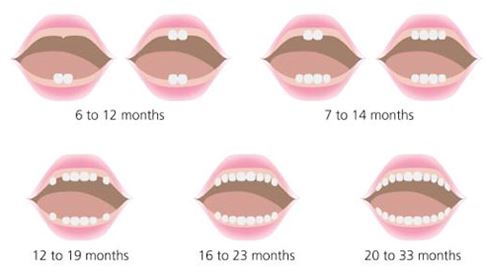 At what age should I start brushing my baby's teeth?
The first primary (baby) teeth usually appear at 6-12 months. Most commonly the front bottom 2 teeth come in first, followed by the top. It is great to establish cleaning as soon as the teeth erupt, so your child embraces it as part of the daily routine. Use a clean cloth or a soft toothbrush with tap water to clean the new teeth and gums.
What kind of toothpaste should my child be using?
From 2 years of age, a pea-size blob of fluoridated toothpaste is recommended. Some children's formulations do not have a beneficial amount of protective fluoride so check in the 'active ingredients' that at least 1000ppm F (fluoride) is contained up until age 4, then 1450ppm F for older children. Toothpaste works best through prolonged contact with teeth so for maximum strengthening potential it is best to spit, but not rinse after brushing. Most children under 6 years do not spit properly and swallow most of the paste, which is why it is important that an adult is in charge of the toothpaste, as ingestion of excessive fluoride is not advised.
What technique should I use?
We should aim for a good brush twice daily (after breakfast and before bed). Up until the age of 7 children are best assisted with brushing to ensure a thorough clean. This can be tricky with the independent types so taking it in turns and some negotiation (star charts etc) might work. About 2 minutes is needed to get all the surfaces – there are some brilliant brushing apps now to help keep kids interested or pop on a favourite song! For younger children brushing when they are distracted can help – reading a book, watching a TV program etc. Standing behind your child makes access easier & improves your view. Opening really wide helps access the biting surfaces of the back teeth and the inside surfaces, then closing a little allows us to get at the outsides of all the teeth. It is important to brush right up to where the teeth meet the gums as this is where plaque can build up.
What toothbrush should my child be using?
Any soft, small-headed manual toothbrush is perfect. Toothbrushes with child-friendly themes may encourage your child and provide distraction during brushing. Battery operated toothbrushes can be hard on the gums as they may not have built in pressure sensors, so care should be taken with these. Many good electric toothbrushes have child heads available which are soft and excellent for plaque removal. It is not necessary to rush out and get expensive toothbrushes though; good brushing technique is much more to do with the operator than the instrument!
Should I be introducing flossing?
Flossing is a brilliant way to clean between teeth that are close together, where the toothbrush cannot reach. If children have spaced teeth there is no need to floss but if teeth are tight together it is advisable to clean between them (this is where cavities often start). Younger children are not manually skilled enough to floss themselves so an adult should help floss the tight-together teeth, usually between the back two molars. The best time to floss is after the bedtime brush - that way floss will carry protective fluoride toothpaste between the teeth.
What about mouthwashes?
Children under 7 are shown to be unable to spit efficiently so I would avoid mouthwashes in the younger ages. In older kids, especially children with braces or a past history of decay, it would be an added extra to use a fluoride mouthwash once a day. It is best to use the mouthwash at a separate time to brushing as otherwise it washes away the protective toothpaste. There are many good mouthwashes available, a fluoride content of at least 225ppm F is advisable and an alcohol free formulation of course!