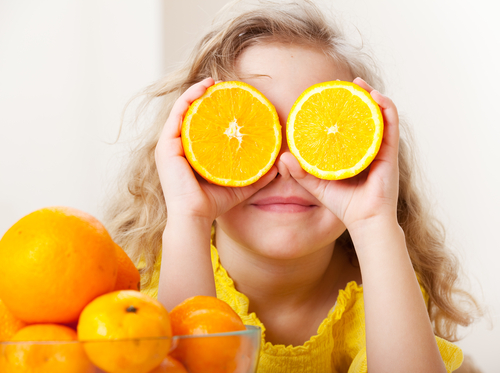 Getting your child to eat their five-a-day can be difficult and frustrating. So, if your dinner table is a mix of 'I'm not eating that' with 'that's gross', the following tips will help you out.
Make it fun
One of the most effective ways to get your kids to eat their fruit and veg is to make it fun. Cut it up into unusual shapes, choose colourful fruits or even make funny faces by displaying the food on their plate in a certain way. There are endless possibilities to make fruit and veg fun and less boring.
Have it ready
Make sure the fruit is easily accessible. Peel and slice apples and leave them in a bowl in the fridge. Do the same with oranges and strawberries, carrots and even peppers. If you take most of the work out of eating fruit and veg then you are making it more appealing for them to eat it. Having it pre-prepared is also handy for when the kids are really hungry and simply can't wait for dinner.
Get them involved
Take the mystery out of the food by getting kids involved in buying and preparing it. Bring them shopping and let them choose varieties that they would like in their lunchbox or for dinner. When preparing it, get your little one involved with the washing and peeling – anything that will make them feel like they are a part of the process.
Most children love smoothies and they are a fantastic way to get fruit and veg into their diet without them really knowing that they are eating something healthy. There are plenty of
smoothie recipes
available using different combinations of food so there is sure to be one that your little one will like. If it proves effective, invest in a smoothie maker or even handheld blender to make preparing them a lot easier on you.
Have a vegetable patch
Another effective way to get your kids involved in the food is to
grow your own
. Corner off an area in the garden, bring your little one along to purchase seeds and help them to plant them. Giving them the responsibility to look after it on their own will give them a heightened sense of awareness of the food and how it grows.