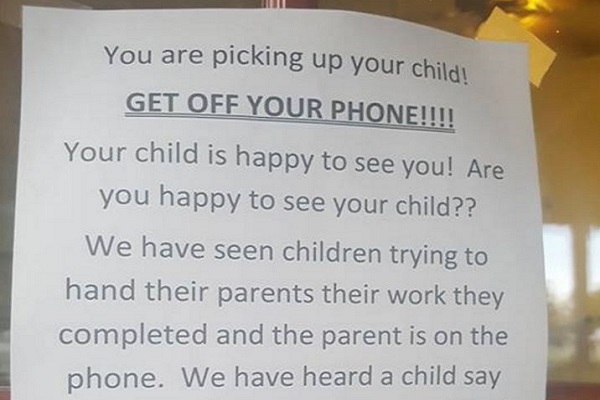 As mums, we all know just how tough it is trying to fit everything in; whether you work outside the home or not, the only way to get everything done is to juggle a few things at the same time.
And, yes, sometimes this means looking on your phone when you are with your kids.
However, a daycare in Texas is pulling parents up on this, urging them to GET OFF their phone while collecting their kids.
Shared on Facebook by Juliana Farris Mazurkewicz, the note read: "We have seen children trying to hand their parents their work they completed and the parent is on the phone. We have heard a child say: 'Mommy, Mommy, Mommy'."
And while they do have a good point, others who commented on the picture also had a few good points themselves:
"Some parents are still working on the run. I don't think a daycare has the right to judge you for being on your mobs when they do not know the nature of ure call/emails," wrote one, while another, disgusted by the comments, wrote: "These comments are appalling. You have NO idea what the parents are facing..."
However, others were in total agreement with the crèche, with many saying a child should come before a phone call.
"100 percent agree.Children grow up so fast.Give them as much attention as you can... after all, they are the most important people in your life."
What do you make of the note?