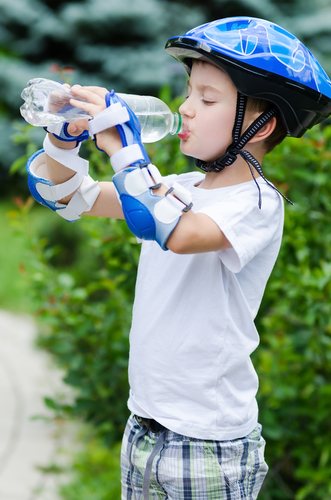 Water is important because nearly half of our body weight is made up of it and it is ensures a healthy immune system. While you don't need to completely omit diluted drinks from your little one's diet, you should limit their consumption and increase their water intake.
Unfortunately for some mums, getting their child to drink anything other than fruit juice or cordials can be a nightmare.
Here are six ways to get your little one to drink more water:
Fun ice shapes
You can pick up fun moulds that can turn boring ice cubes into heart shapes, fish shapes, flowers or even balls. Only allow your little one to use these ice cubes in cups of water. This will be an incentive to get your youngster to drink water.
Don't buy large quantities of juice
Try to avoid buying large quantities of juice and having it in your home. While you don't need to stop buying it altogether, limiting the stock will encourage your kids to keep it for special occasions. Remember, when it's gone it's gone, until the next big shop at least.
One glass of fizz
Only serve water at the dinner table - some kids will simply drink what is just put in front of them so just put water there. While this obviously won't work for all children, getting into habit of just serving water might encourage them to drink it.
Lemon and lime
If it's the taste that your little one doesn't like, serve it with slices of fruit. Simply fill up a jug of water, add in thinly cut slices of lemon and lime and leave it in the fridge. This will give the water some flavour and you can use any other fruits like orange or kiwi if you like.
Buy flavoured water
Bring a bottle of water with you when you are going out in case they get thirsty. If you do need to buy a drink in the store, only allow them to choose plain or flavoured water.
Practice what you preach
If you are constantly drinking tea or juice and very rarely go for a glass of water, how can you expect your little one to up their intake. Substitute at least one or two cups of tea or juice for a glass of water.