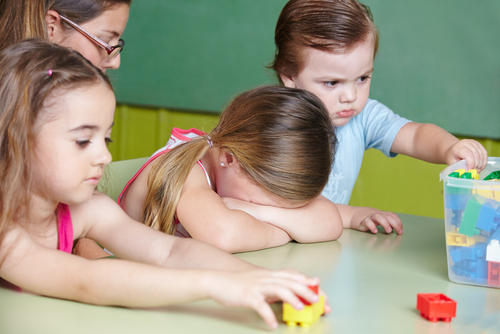 While it's hard to imagine your little one having any friendship problems, there are times when our tots won't get along. Here are some friendship problems that your tot might run into, and how you can handle them:
They won't be my friend
Rejection is not nice, especially for your little one, and it can be difficult for them to understand. And while we know our little one will make plenty of friends in the days to come, it's always a good idea to show empathy when it comes to our tot's friendship problems. Say; "I'm sorry, honey. That must be sad for you." Then suggest that your child try to play with them again. When it comes to most preschooler rejections, there is usually no sound reason behind it. It's best that your little one doesn't take these things to heart and to make sure that they don't give up on the idea of making friends.
Exclusion
Our tots are growing and learning more about each other, and who they want to be friends with. Sometimes this can lead to exclusion from certain groups, which is never nice to experience. The best thing you can do in these scenarios, is to ensure that your little one treats everyone with respect, and most importantly educate your child on how to deal with rejection gracefully. Remember, your child doesn't need lots of friends, but just one loyal pal. So keep an eye out for children who share the same interests and temperament as your tot.
They don't like me anymore
Preschooler friendship problems are usually over by lunchtime, but it doesn't mean you shouldn't take them any less seriously. If your child does approach you with an issue, ask them to explain what happened. Once you have more details, tell them everyone has similar issues, even you. Sometimes it can be a good idea to explain similar scenarios that occurred for you.
I don't want to be their friend
It's important to respect your tot's decision, but don't forget to ask them why they feel this way too. Remind your tot that you still expect them to be respectful to everyone, even if they aren't friends.