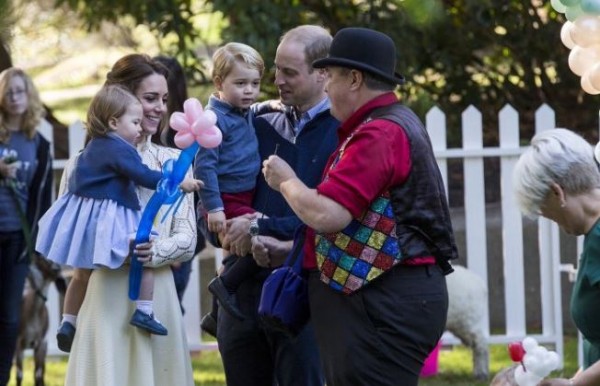 The Duke and Duchess of Cambridge and their two children – Prince George and Princes Charlotte – have just finished their tour of Canada.
And as they said their farewells on Sunday, everyone was in agreement that their little visit to a children's party for military families was the best part of the trip. Here George, three, and Charlotte, one, looked simply adorable as they played with bubbles, balloons and other children.
However, the latest video of them posted to the Kensington Palace Twitter account has left a few people confused and slightly creeped out!
The video focuses in on the family at the kids' party, but it has been slowed down and is quite dark. Deep, dramatic music has also been added!
We have created such happy memories for our children during this visit #RoyalVisitCanada pic.twitter.com/S1v0XO3WvT

— Kensington Palace (@KensingtonRoyal) October 1, 2016
After watching the video, plenty of people were then left questioning why they would make it so dramatic!
@KensingtonRoyal erm, this is so bizarre!

— Esther Han (@EstherHjHan) October 3, 2016
@OhRhilly @Chic_Happens_ @KensingtonRoyal Totally creepy. Lovely kids having fun and this is the result?

— Hovikirjeenvaihtaja (@Hovikirjeenvaih) October 2, 2016
@KensingtonRoyal My goodness, what's with the horror music??

— CBlack (@Meditransgal) October 1, 2016
@KensingtonRoyal weirdest video ever...

— Abby Green (@abbygreen3) October 2, 2016
@KensingtonRoyal my god its like a horror movie or thriller when you know the climactic sadness will be revealed. How odd this is.

— Matt #NoDAPL (@Matt1976Britton) October 2, 2016
However, one person may have the answer as they tweeted that Canadian Heritage (the video editors) always make their videos like this.
@CepeSmith @KensingtonRoyal all tour videos by Canadian Heritage are made this way

— RoyalRomance (@RomanceRoyal) October 1, 2016
This was Charlotte's first official royal visit and their first as a family of four!
Thank you Canada - goodbye! pic.twitter.com/bp5IxjxVvL

— Kensington Palace (@KensingtonRoyal) October 1, 2016
SHARE your thoughts on the video.