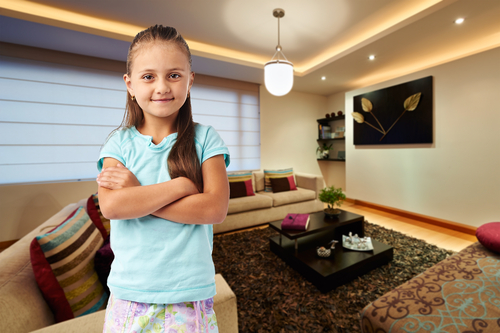 When it comes to leaving your child home alone, mums can often be left feeling overwhelmed as they try to decide if it is right or wrong. Their level of maturity, where they are left and how long they will be alone for are all factors that must be considered when leaving kids unsupervised.
While you are the best judge, there are things that you should bear in mind before closing the door.
Talk to them.
Before you leave, sit down and have a chat to ensure that they feel comfortable being left on their own. When you return, talk about how they got on – this will help to relieve any worries they had.
Tell them when you will be back.
One of the most important things you should tell your child before you go is when you intend to be back. This will help set your youngsters mind at ease.
Always leave a contact number.
Leave your contact number and make sure you are available to answer the phone immediately. If you feel that you may not be readily available, leave the number of another reliable adult.
Make sure they know what to do in an emergency.
Leave a list of emergency numbers and make sure they know what to do and who to call in a crisis.
Teach them how to be safe.
Make sure they know not to answer the door to strangers and keep obvious potential dangers out of reach like medicines and matches.
One step at a time.
Ease your kid into the situation. Start by leaving your little one alone for an hour and see how they get on. Talk about how they felt and any worries they experienced. The next time you can leave them for a bit longer. These test runs will help your child feel more confident when it comes to leaving them home for longer periods of time.
It is important to remember that, while there is no law that states the right age to leave a child, it is an offence to leave them alone when they are in obvious risk. Remember, all children are different and leaving them home alone depends on the individual and whether they are mature enough to cope in an emergency. It is also up to your child if they feel confident being home alone.