As parents and children across the country prepare for the new school term, Tesco is on-hand with great value F&F uniform deals to ensure the kids are ready to go. In-store, customers will find a range of boys' and girls' uniforms for ages three - 16, at great value prices. This year, a 2 pack of polo shirts start at €3, a 2 pack of sweatshirts from €5, skirts 2 pack from €7.50, and girls trousers 2 pack from €7.50.
The 2020 F&F collection at Tesco comes with the quality that lasts through the lunchtime spills and snags in the playground. Thanks to the adjustable waists, secure hems, Teflon™ ecoelite stain repellent and special Novacron™ dye, their uniforms will look newer for longer.
As well as all that, Tesco F&F uniforms also come with a 100-day guarantee, meaning you can kit-out the kids with confidence, knowing that if the uniform wears quicker than expected, Tesco can exchange it. In addition to uniforms, Tesco has a full PE kit range to ensure kids have the complete set to go back to school with, without parents needing to spend a small fortune. F&F uniforms are available in over 80 Tesco stores nationwide, and the range is available all year round.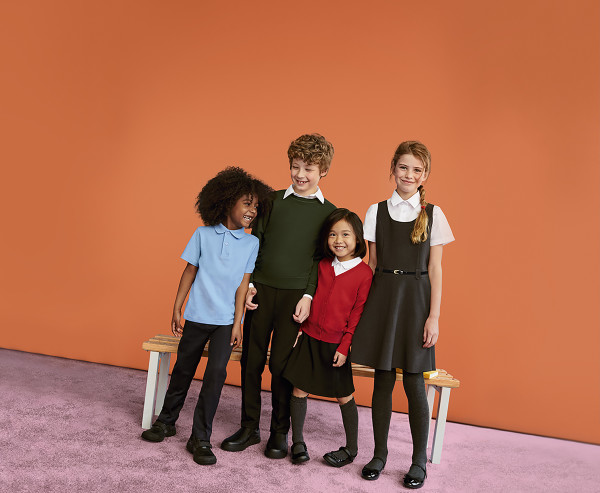 Alison O'Doherty, Head of Clothing, Tesco Ireland said, "With the return to school potentially looking a little different this year, we're keen to help families plan ahead and prepare as much as possible when shopping at Tesco this summer. Our F&F school uniforms for ages three to 16 are in stock all year round, meaning the kids are covered when they return to the classroom. The F&F uniform range won't break the bank, and this year includes knitwear, polos and sweaters that were created with a colour that lasts longer and wears better, with many essentials sold in 2-packs for even better value. The F&F uniform range provides customers with the great quality that we know is hugely important to families. For additional peace of mind for parents, the range once again has the favoured Teflon™ ecoelite stain-repel finish, with the added 100-day guarantee meaning that if a uniform wears out quicker than expected, we will exchange it for a new one."
From polo shorts to pinafores, Tesco has everything you need for the return to school.