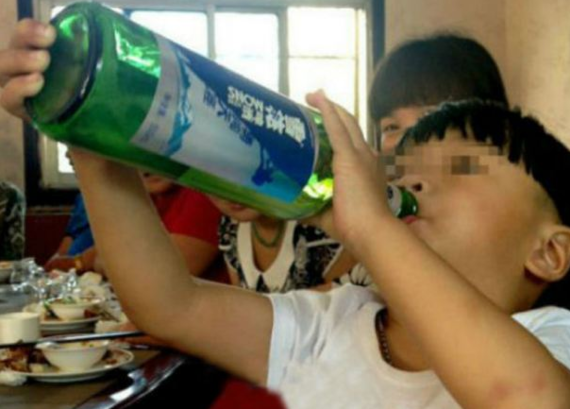 Chinese authorities are apparently dealing with what is believed to be the world's youngest alcoholic – a boy aged two-years-old.
Cheng Cheng, known as "Little Winebibber", shuns milk for alcohol and is apparently able to drink whole bottles of wine and beer in minutes.
The two-year-old is said to have had his first taste of alcohol at ten-months-old, by sipping wine on his father's chopsticks and by the age of one was drinking bottles of beer.
Cheng Cheng's parents reveal they are now struggling to move their son on to drinking soft drinks and milk, as the little boy screams for alcohol instead.
His dangerous habit has sparked outrage in China, with social services debating whether to put him in care or not.
Sources said that parents aren't too concerned about their son's drinking and have even joked about their son's taste for alcohol.
Cheng Cheng's mother Cai said that she would allow him to drink alcohol at festivals as he would get upset when he saw relatives drinking.
"As sometimes he is really noisy, we have no options but let him to try a little bit of wine."
But Cheng Cheng's parents said they won't let him drink any more alcohol for fear of losing their child, as well as it affecting their son's health and growth.
"We will not let him drink or touch alcohol anymore as we afraid that it will affect his growth."
Chinese doctors commenting on the case said that the organs of a young child are not developed enough to deal with alcohol, and a little bit can easily harm their health.