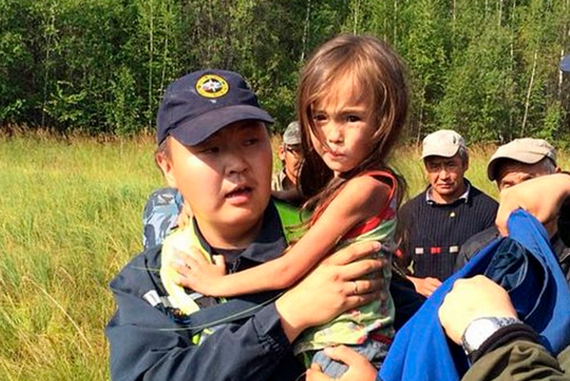 Three-year-old, Karina Chikitova, was lost for 11 days in the Siberian taiga wilderness after she followed her father and became lost, reports The Siberian Times.
Her mother, meanwhile, believed the little girl to be in the company of her father, who had not realised she had attempted to follow him.
In this remote area, the little girl miraculously survived all thanks to her canine companion. Keeping her warm and protecting her from danger, the dog's efforts eventually saved Karina's life.
Nine days after the young girl disappeared, the dog appeared at her home and lead searchers to her location thus saving her life. However, at first, the dog's appearance was a bad sign, said spokesperson Afanasiy Nikolayev: "That was the moment our hearts sank, because we thought at least with her dog Karina had chances to survive – night in Yakutia are cold and some areas have already gone into minus temperatures."
However, the little girl's story is not over yet, as she is finding it difficult to look back on the 11 days: "She doesn't want to speak about the time she spent in taiga, or not yet. The only thing she said that she was eating berries and drank water from rivers."
Despite this, a psychologist has said that she is doing very well: "We can say that the girl's mind was not hurt. She is talking, she reacts normally to everything around her. She recalls what happened to her."
What an incredible story, it sounds like this little girl has found a true friend in her loyal and caring puppy.