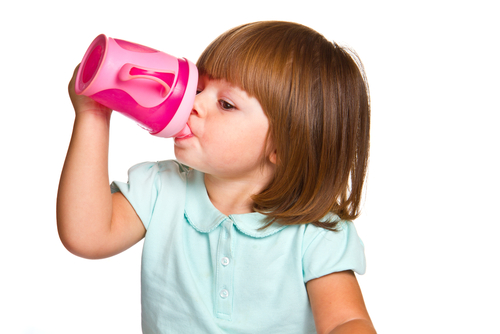 Switching your little one from a bottle to a sippy cup is not an easy process. It's a difficult transition for your tot, especially if they've grown attached to their bottle in the last few years. Thankfully, there are few tips to make the transition from bottle to sippy cup an easy one:
Find the perfect cup
Sippy cups are perfect as they teach your little one how to drink from a cup. Sippy cups also contain a valve, which regulates the amount of liquid that comes out. Some start their little ones on sippy cups at three-four months, while some mothers like to start their tots on their first birthday. Whatever stage you prefer, you can make the sippy cup transition an easy one by finding the perfect cup. Try and test many different brands before settling on one sippy cup. Sometimes a sippy cup with a soft, nipple-like spout can make an easier transition from the bottle for your little on.
Teach them
Your little one will be confused initially when they first witness the new sippy cup. When introducing it to your tot, it can be a good idea to fill it with drink and let your toddler play with it initially. Make sure that you show your tot how to drink from the sippy cup and then let them try drinking from the sippy cup themselves.
Other children
If your little one goes to a playgroup or has older siblings, get them to demonstrate how to work a sippy cup. Your little one will want to do what the other children are doing, so if you've got a friend whose child is already using a sippy cup, it might help to have a couple of snack or meal-time interactions with them. There your little one can see the other children using a sippy cup and won't be frightened of the new object.
Beverages
If milk and water isn't working, a sweeter drink might encourage your tot to try the drink out initially. Diluted juice is usually a good starter point, but eventually switch back to healthier drinks as your little one may associate the sippy cup with sweet treats.
Feeding schedule
It's best not to overwhelm your tot initially. Gradually introduce the sippy cup into your little one's feeding schedule. When they're ready, they will soon start using the sippy cup at all of their meal times.