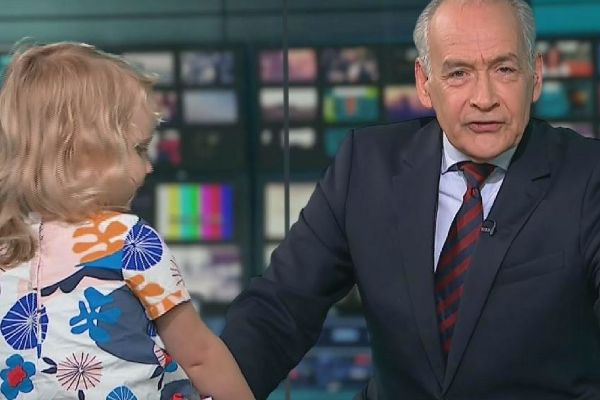 A little girl stole the show when she climbed onto the desk of newsreader Alastair Stewart during a live TV segment on milk allergies.
Little Iris Wronka and her brother George, who both suffer from milk allergies, appeared with their mum Lucy on a lunchtime bulletin on ITV News.
As new guidelines have been issued on testing for milk allergies, Lucy was invited to speak about how her children had gone undiagnosed for some time.
As Lucy earnestly discussed the children's diagnosis with Alastair and how they were adjusting to a dairy-free diet, Iris became bored and wandered around the desk.
Having failed to climb the desk from the front, she made her way over to the side, scrambled onto it and tried to high-five the news anchor.
The joys of live TV! When children take over your desk when you're halfway through an interview @alstewitn pic.twitter.com/MyKEVsmtuw

— ITV News (@itvnews) August 23, 2017
An amused Alastair attempted to quiz young George about how he found his new diet but the youngster was far too busy intently watching his sister carry out her assault on the news desk.
Alastair and mum Lucy managed to continue their discussion with straight faces, despite Iris's antics in the background.
Concluding the bulletin, the seasoned newscaster joked: "Mary Nightingale, I think, will have a more peaceful time at 6.30pm.From all of us, a very good afternoon to you".
After the broadcast, Alastair's colleagues congratulated him on remaining calm and professional throughout the bulletin.
ITV News political correspondent Paul Brand praised his colleague, tweeting: "TODDLER TAKEOVER! Best lunchtime news ever.Well done @ alstewitn for holding the fort!"
Tremendous chaos - @alstewitn being thoroughly upstaged by kids in his studio pic.twitter.com/NchkDxLrtS

— Ross Hawkins (@rosschawkins) August 23, 2017
ITV News' royal editor Chris Ship said: "What happens when mum comes into the studio with the kids. Live on @itvnews. Top work by @alstewitn".
"In tears with laughter. She was a star and Alistair was the consummate professional," one viewer wrote on Twitter.
"Just watched this and both me and my wife cried with laughter. Thank you so much", another amused viewer wrote.

Many compared the funny incident to the infamous BBC kids who interrupted their dad's Professor Robert Kelly's live interview.
Mum Lucy took to Twitter after the interview, writing: "OK so we are viral and trending on Twitter!"
It certainly gave us a chuckle – did you enjoy the clip mums?