Tots Toy Club is delighted to announce the launch of their Brand Ambassador programme with a call-out for ten toy-testing families. The sustainable toy club models a toy rental service with monthly toy delivery and collection. Each month, four age-appropriate toys are delivered to the delight of a child, while the old ones are collected for sanitisation and redistribution.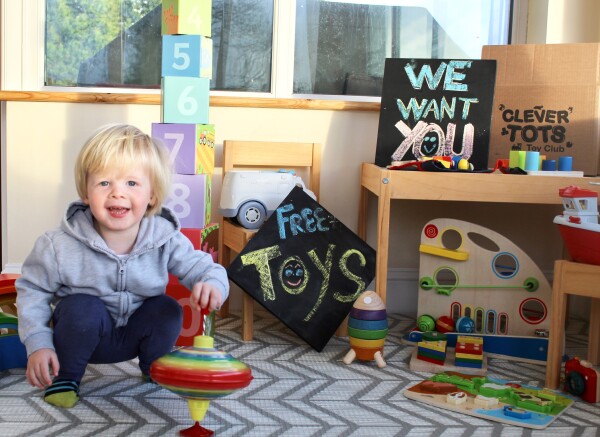 Clever Tots Toy Club is now seeking parents with little ones under 3-years to try out the service and share their positive experiences with their local and online communities. If you have a little toy tester at home, and like the idea of adding a new set of four developmental eco-friendly toys to their world every month it's easy to apply. Simply post a picture of your little one on your public Instagram or Facebook profile, tagging Clever Tots Toy Club and using the hashtag #CleverTotsBrandRep2022.
Clever Tots Toy Club has been designed to avoid toy overwhelm, promote learning through play, and seek a sustainable alternative to all the toy waste that ends up in landfills. The concept is simple, you pay a monthly membership fee to the club and four new toys are delivered every month, while the old ones are collected at the same time.
According to science, four is the magic number of toys a child should have at any one time to encourage exploration, creativity, and focus. The sustainable toy rotation service of targeted developmental toys offered by Clever Tots Toy Club keeps your little one stimulated and excited by their toy collection. This allows parents and children to discover all of the play opportunities offered through deep engagement. It also saves parents money in the long run, there's less toy clutter, no time for toy boredom, and it's good for the planet.
Speaking at the launch of the Clever Tots Toy Club Brand Ambassador Programme, Co-founder
Jenel Sanders said:
"Our goal is to increase the awareness of our Clever Tots Toy Club online within the social media communities, where we know parents like to spend some of their downtime. You can't beat the peer recommendation of a product or service, particularly when you can truly see in photos and videos that the user is really enjoying and benefitting from it."
"We're hearing from parents that children are already bored with the gifts they received at Christmas. Often, this is actually more down to overwhelm than actual boredom. While toys that have too many light and sound stimulations actually impede deep engagement, since the obvious visual or noise reward is so easily attained."
"At Clever Tots Toy Club, we work with a child development expert to carefully select four toys to be delivered to our children each month. While our 'Ways to Play' guide helps parents to support their little ones in getting the maximum benefit from each toy according to their stage of development."
"Now we're looking for some enthusiastic Brand Ambassadors to share their experience with our toy membership club. All that we ask is for you to capture some of the fun you have while playing with our toys and share it on social media."
Supporting the launch of Clever Tots Toy Club, Child Neuro-developmental Expert - Ollwyn Moran said:
"The toys I have chosen for each age range of development within the Clever Tots Toy Club, have been purposefully selected to provide the optimum stimulation and learning opportunities for each child. During the period from birth to age three, a child's brain will experience the biggest period of development in their life, producing more than a million neural connections each second."
"Clever Tots Toy Club has created toy sets for members from 3-months to 3-years to encourage playful learning. This kind of parent and child engaged structured and unstructured playtime, provides some of the most important building blocks in a child's early life."
The terms and conditions for becoming a Clever Tots Toy Club Brand Ambassador can be found here.