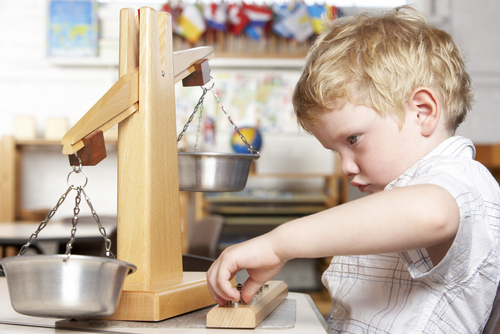 Set up by Dr. Maria Montessori in 1907, the aim of a Montessori school is to ensure kids can learn at their own pace, in a structured environment that will allow them to explore and express their own individual needs and skills.
Predominately for kids aged between three and five, it is usually attended by children who will be going to primary school the following year.
The Montessori curriculum comprises of practical life, sensorial, mathematics, language and literacy, cultural subjects and creative subjects. Here is an explanation of each teaching method:
Practical life
Practical life teaching includes self care of oneself like dressing and how to use buckles, zips and Velcro; care for the environment and surrounding area such as dusting, sweeping, plant life, animals and polishing; and also social skills including manners, helping out and sharing. It also includes the development of fine motor skills through acts of pouring, spooning, opening, closing, and folding.
Sensorial
The sensorial way of teaching encourages the child to use their five senses: touch, taste, sound, smell and sight. This is done by using visual objects of varies sizes and dimensions; numerous types of textures including smooth and rough, fabrics and woods; temperatures; difference in weights; sound boxes and smell boxes.
Language and literacy
The Montessori method includes language and literacy teaching via the alphabet, word lists, pictures and objects. It also focuses in on short and long phonic words. And teachign youngsters how to write letters.
Mathematics
Maths is another important part of this way of teaching and is done via counting rods, spindle boxes, addition and subtraction board, cards and counters. All these help the child learn how to put numbers in order, are introduced to addition and subtraction and counting 1 – 10.
Cultural subjects
Montessori encourages kids to develop their own personality and become independent. It introduces kids to history, geography and science and other things that will give them a better sense of their surrounding environment.
Creative subjects
Helping kids express their own creative side, Montessori not only teaches through arts and crafts, it includes music, drama and movement.