Mums across Ireland can finally reclaim their ipads, e-books and MP3 players off their children. VTech has released the InnoTab, an amazing new toy for kids that combines e-books, educational games, music, a photo viewer and an art studio all in one touch-screen, handheld tablet. This device is a breakthrough in technology for children and is aimed at kids between the ages of 4 and 9.
Although kids love video games, parents often feel unsure if they should encourage their child to play computer games. With this devise you no longer have to feel guilty as it combines learning and fun. The games, apps and e-reader are a great way of implementing learning into your child's games. This tablet allows children to develop core skills such as reading, spelling, math, logic and creativity. Applications include an art studio, interactive globe, photo viewer and video player. It comes complete with a state-of-the art gravity sensor control for superior motion based gaming and also has built-in auto picture rotation.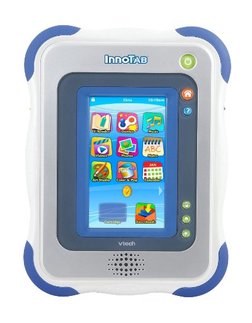 As the InnoTab functions as an educational tool, parents can monitor their child's progress with a built-in tracker – so if your child's reading is progressing more than their maths, you can download extra games and learning apps that will suit your child. These apps can be downloaded onto your computer using the VTech Learning Lodge Navigator. To download more games and apps visit
www.vtechuk.com/download
If your child already owns the VTech Kidizoom camera or videocam, they will be able to transfer all their photos from their Kidizoom onto their InnoTab and view their photos and films on the InnoTab. There is even a stand at the back of the InnoTab so they can use it as a picture frame for all their photos.
The InnoTab includes:
• G-sensor control to support motion games
• Built-in auto rotation portrait/landscape
• 5" LCD touch screen
• USB cable
• Stylus
• SD card slot
• 128MB storage
• MP3 player
• Display stand
This fantastic device is available in Argos, Amazon, Debenhams, Hamleys, Littlewoods, Smyths, and all other good toy retailers.
The InnoTab console retails around €100and software retails around €30