It's nearly holiday time and this year that will mean staycation time! As the summer tries desperately to happen, many families across the country are thinking about getting away. It will be a different kind of holiday this year, but it will be so good to be doing a holiday after a long year of restrictions.
Your staycation will need some planning, and not least the car journeys which can be difficult. To make sure you're getting off on the right foot – here are a few handy hinters.
Games
Plan some games that the family can play together. Some traditional games such as 'I spy' or charades can work well, depending on the age of the children. Another option is 'Car Journey Bingo', you write out a list of things the children might see along the journey and they tick off the items as they spot them. If they tick everything off the list, they then can get a prize!
Breaks
Try and schedule in toilet breaks ahead of time and let the children know when these stops will be made, so they know how long they have until the next break. It's a good idea to combine a toilet break with a quick walk and fresh air for everyone.
Be prepared
If you're stopping off for a lunch break, or a stroll, or for when you reach your destination, you need to have all the necessary accessories. For little ones you want a lightweight buggy that's easy to transport and folds away neatly – the Chicco Echo Stone Stroller available at Dunnes Stores for just €74.99 is the perfect partner for any family on the move. And as you're going to be in Ireland, get the rain cover too – at just €14.99 it's a must have.
And while you're wheeling the little one in the buggy, you'll need the Chicco Easyfit Carrier for the even smaller one J at just €24.99 it's a super way to get be out and about. It's a comfy baby carrier with ergonomic features, you'll know your baby's head, neck and back is fully supported as you move freely.
When you're stopping off for food, this clever seat is the perfect addition - with adjustable
height and removable tray, it's super easy to transport, clean and fold away! The Chicco Pocket Snack is available at Dunnes Stores for just €22.99.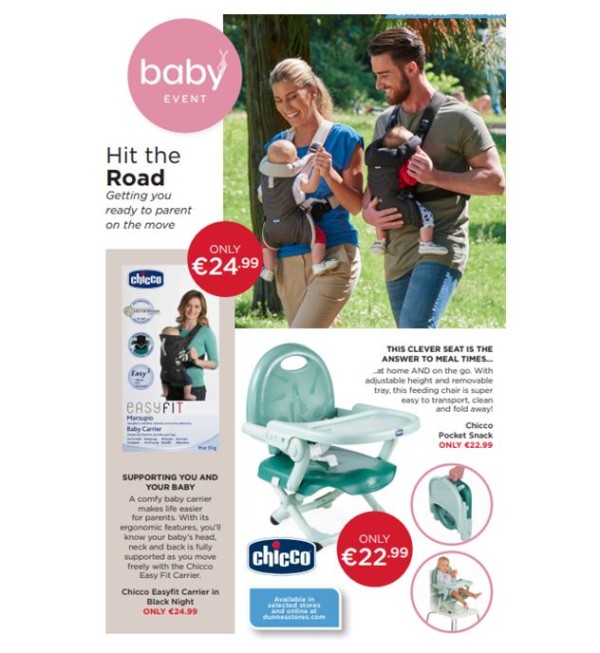 In car entertainment
As well as using books for the children to read in the car, consider audio books that can be chosen in advance, these are wonderful for whiling away time for kids.
Snacks
Bring a selection of snacks for the journey and for arrival – the shops might not be open when you get there, or you might not want to shop on arrival. There's a lovely range of snacks on offer at Dunnes Stores including:
Ella's Kitchen Smoothie Multipack 5x90g Range was €4.59 now just €4

Organix Multi Pack Snacks Range 2 for €4

Heinz So Yummy Biscotti 60g was 99c now just 85c
These are great to have on hand and super reasonably price.
And that's it – plan your holiday and you'll take most of the stress that can often come with family holidays – making lots of time to create wonderful memories for you and the kids.
There are tonnes of brilliant offers at the Dunnes Stores baby event – check out the full details here, offers run from 20th April – 17th May.