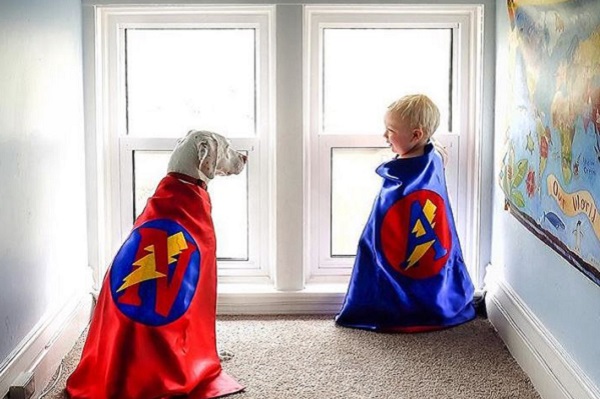 Forget about Chandler and Joey or Winnie The Pooh and Piglet, Nora the dog and baby Archie are the greatest duo of all time.
Elizabeth Spencer has shared the tale of their heart-warming friendship on her Instagram. The mum posts the cutest pictures of her son Archie and her dog Nora.
Elizabeth rescued Nora seven years ago, but the dog was traumatised after years of abuse. She was terrified of everything and everyone.
Elizabeth's son Archie has befriended the English Pointer and their friendship is too cute for words.
She spoke to The Dodo about her son, "Archie is an extremely laid-back, happy, good-natured baby and all the animals seem to really respond to that, particularly Nora."
The mum revealed that Nora is always by Archie's side. She believes Archie makes Nora feel safe and loved.
The dynamic duo does everything together, from napping to causing mischief. The mum-of-three shared, "If he's going through my cupboards throwing all the dishes on the floor, she'll be there cheering him on."
Elizabeth has shared many photos of Archie and Nora on her Instagram account. They are the best of friends.
"Watching them hanging out, sharing secrets and commiserating as the world goes by outside fills my heart in a manner I can't begin to explain. We're all so lucky to have each other," she wrote.
The mum shared a photo where she is reading a book to her son. You can also spot Nora, who is patiently waiting by her side, she joked, Nora, "Yes, Nora, you can have him back in just a minute. (When your dog thinks she has greater rights to your kid than you do."
Archie and Nora spend a lot of their time in the family playroom. They even dressed up as superheroes together.
Elizabeth lives with her three kids, three rescue dogs and three rescue cats, and her husband Mike.
She admitted that life can be hectic sometimes, but the constant company warms her heart, "In a house of three kids, two dogs, two cats and a @aporius, I'm never without someone or something seeking comfort on my lap."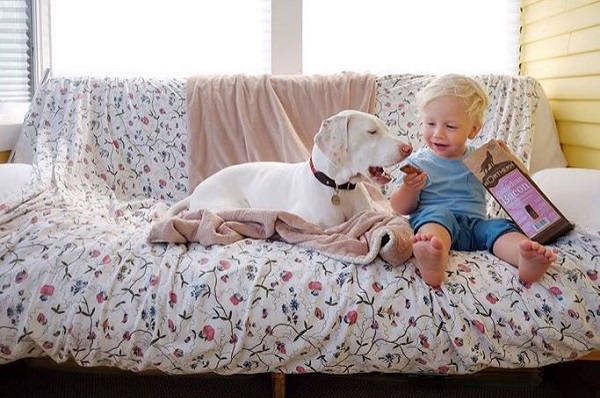 The mum said teaching her children how to treat animals properly was a big priority, "We taught the kids from a very young age to respect the dogs and to treat them well, so the dogs trust and love the kids very much and are quite comfortable hanging out with them in any manner."
We cannot wait to see Nora and Archie's bond strengthen as time goes by. We think this is the beginning of a beautiful friendship.