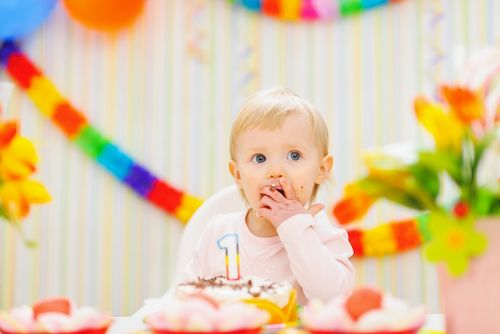 Baby's first birthday will come around sooner than you think and before you know it you've survived that first year!
This is definitely a day to celebrate – this time last year your life changed for the better and you became a mum, either for the first time or again.
There are so many things you can do to celebrate this milestone and ultimately you should do whatever suits you and your family.
If you do choose to go with a party here are a few tips that will help the day be enjoyable and relaxing.
Time
You should try to choose a time of the day when your baby won't be tired, so plan a party around baby's nap times.
Guest list
While this is entirely up to you, remember that baby may get overwhelmed by a big crowd and intimidated by lots of other small children. If your baby is particularly shy you might want to consider inviting a select group of people.
Location
Many people enjoy having a party at their home, or in the back garden if the weather permits. There are many places you can book for a baby's birthday party but perhaps it might be better to save that expense for when they are old enough to remember it a little better.
Ask for help
Don't expect to be able to do everything you do everyday anyway with a party to plan on top. Ask for help from a family member or even a childminder who can help you set up and keep an eye on baby for a bit while you enjoy the party.
Allergies
Always check with your guests if their children have any allergies you should be aware of and try to steer clear of serving them at the party.
Alcohol
Don't let anybody drink heavily at the party – after all it is still a child's birthday party. At the same time, don't be afraid to have a celebratory mimosa if you want to. After all, you made it this far, it's time to celebrate!
Something different
Don't be pressured to have a party, no matter how small, if you don't want to. Why not plan a family day out for you and your family to the zoo, or a picnic. Pick somewhere special to you and make some fun birthday memories. You don't even have to do anything if you don't want to!
Memento
Create cute memories by taking some adorable 1st birthday photos complete with messy cake and balloons. One for the wall!