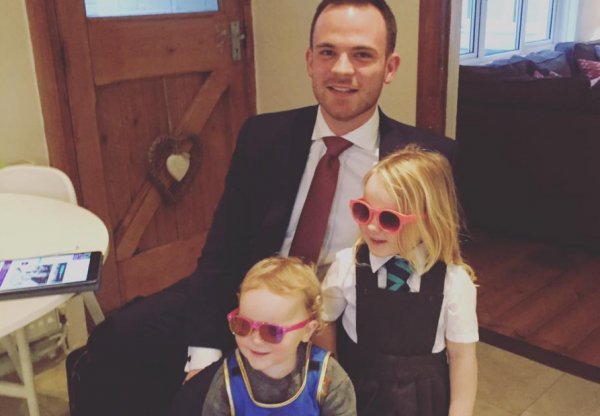 A mum was left mortified after she invited an estate agent to her home to value it, and her children wouldn't leave him alone.
Lorna Hayward lives in London with her two daughters, and like most mums, her evenings are busy and spent running around after the kids.
Wanting to have her home valued by a local estate agent, Lorna was hesitant when they asked if they could come round at 5pm.
"This is Dan. He just valued our flat," Lorna said in a Facebook post.
"I had warned him that arriving on my only available slot of the day at 5pm was risky. Nevertheless, he rocked up."
Sharing a picture of Dan alongside her two daughters, Lorna revealed the adorable story of their first meeting, and we can all relate.
"In the last hour, Dan (who is a complete stranger) has had both my daughters request cuddles, hand-holding, and asked if he would watch Peppa Pig with them, does he like cheese, and if he was staying he night."
However, that wasn't the best bit.
No, Lorna went on to reveal that her daughter, Elsie, asked a little too much with their new friend.
"And the finale – Elsie walking out of the toilet announced she had just done 'her biggest poo yet – it was a bit spikey though, so please can you wipe my bum?'
"Poor Dan. Poor, poor Dan. Gonna just pour myself a pint of wine."
While the mum-of-two was left mortified, friends couldn't help but find her story hilarious.
"I cannot begin to tell you how much this is making me giggle," wrote one person.
"Tears of laughter – this is hilarious," wrote another.
Some are even looking forward to the sequel already, with one person saying: "Can't wait to hear about their interaction with potential buyers."
Well, it looks like these two little girls didn't scare Dan away, and Lorna took to Facebook to share the great news, saying: "Look who came back to take photos of the flat."