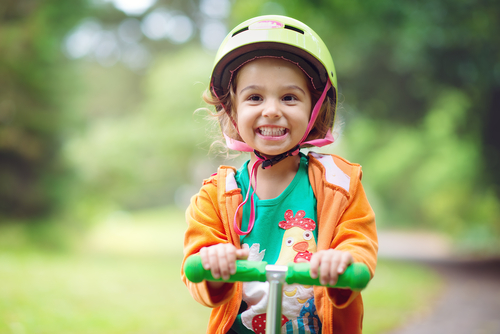 Scooters are a great way to get your toddler out and about, and can also help your child with their sense of balance.
To ensure your little one has a happy, fun and most importantly safe time, keep in mind our ten dos and don'ts:
Do:
Put a helmet on them
Before your toddler steps foot onto their scooter, make sure they have a helmet on them. No matter how safe or how slow they might be going, it is vital you protect their head from falls or tumbles. Wearing one is also a great habit to get your youngster into from a young age.
Try before you buy
Don't base your choice on the fact that the product says it is suitable for your child's age group. These are usually a generalisation and your child may be too big or too small for the scooter recommended for their age range.
Put a high-vis jacket on them
Even if you are with them, a high-vis jacket will make it easier for drivers to see them straight away.
Regular safety checks
Always check the scooter for wear and tear before your little one heads out on it, especially that the brakes are working.
Adjust as you see fit
As your little one grows, it is important you adjust the scooter so that they aren't struggling to reach the handle bars or that their feet aren't too big for the base.
Don't:
Don't let them ride near driveways
It can be difficult for drivers to see young kids as they reverse out of driveways so try to scoot in a wide open area.
Don't let them wear sandals/ flip flops
Make sure you put closed toes shoes on your youngster even in summer to prevent their feet getting scratched or them tripping.
Don't buy one that is too big
Avoid buying a scooter that your child will grow into. It is important you choose one that suits your son or daughter comfortably.
Don't let them go down a hill
Make sure your little one gets off their scooter if you are going down a sharp incline as it can be difficult to stop.
Don't let them scoot on their own
Always keep your little one beside you when they are scooting and don't let them out of your sight.