New Irish company Little AngelRose specialises in rattan toys and furniture for dolls, boho nursery décor and presents an heirloom quality collection that is a balm to the soul. A large selection of culturally diverse dolls and dolls with Down Syndrome are also available to help little ones understand values of inclusivity promoting empathy and acceptance of people of any race, gender or condition. Little AngelRose is the first company to design a rattan toy wheelchair with the belief that normalising disability starts at home. It was designed to help abled children to look beyond disability and to help wheelchair users feel like they belong.
The wide range of Little AngelRose rattan toys and furniture is sustainable, plastic-free and pleasing to the eye for adults as well as delighting little ones. The collection features the Daisy Doll Rattan Highchair at €95.95, the Willow Doll Rattan Wardrobe at €129.95, Lila Doll Rattan Changing Table at €134.95, Bumbu Doll Rattan Chair at €79.95, Coco Doll Rattan Rocking Bassinet at €119.95, the Harvey Doll Rattan Wheelchair at €124.95 and many more.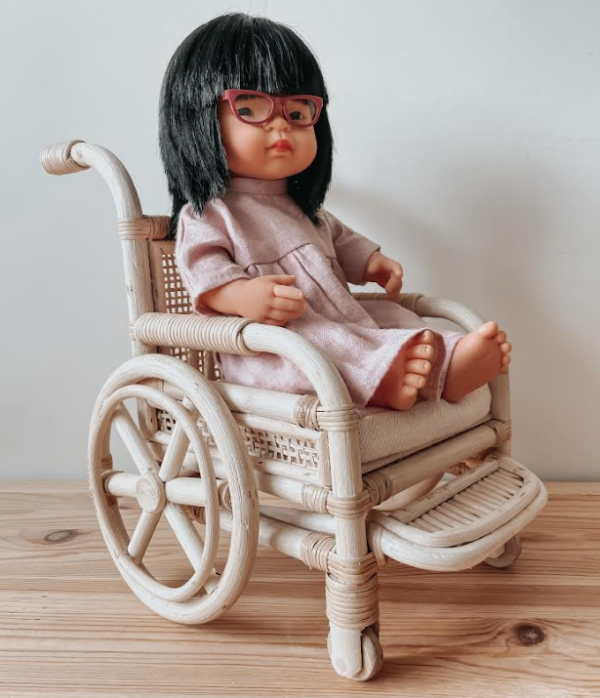 A beautiful selection of culturally diverse dolls are available from €37.90 introducing racial diversity as well as an exquisite range of dolls clothing and accessories. The dolls are anatomically correct and have well-defined ethnic features to aid children in the concepts of identity, diversity & inclusion. They are soft, contain no BPA and are washable and recyclable.
Dolls with Down Syndrome, with Hearing Aids (Cochlear Implants) and with glasses are also available from €37.90 helping little ones understand values of inclusivity and coexistence through play. All profits from the Dolls with Down Syndrome are donated to Down Syndrome Ireland.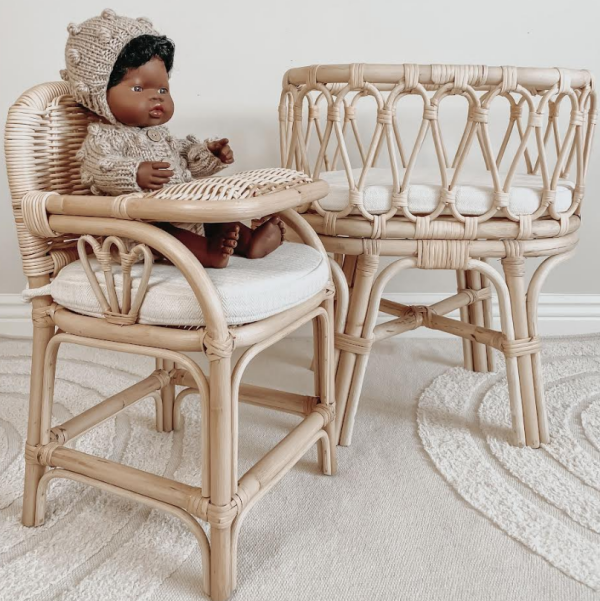 "Every little detail has been thought of with children in mind. All kinds of children. To make children with extra needs feel like they belong and help abled children to see beyond disability. We believe that surrounding yourself with calming, natural, beautiful objects can have an enormous beneficial effect on mental health." said Àngels Taylor founder of Little AngelRose.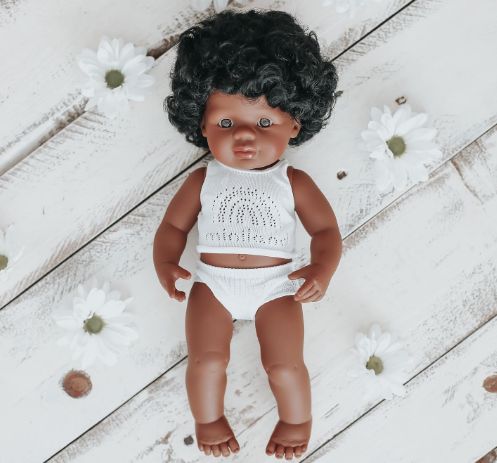 All Little AngelRose rattan toys and furniture for dolls are ethically made, eco-friendly, sustainable and designed in Ireland using only natural materials and fully CE tested. The company also offers rattan nursery decor and home boho decor, like beaded lampshades from €129.95, rattan mirrors from €69.95, wicker wall décor from €19.95 and accessories, like the delightful 'Ellie the Elephant, Gigi the Giraffe or Liam the Lion wall heads at €94.95, that bring a calm and comforting atmosphere with a bohemian touch. This very special collection is timeless, can be handed down from generation to generation and all available on www.littleangelrose.com.